In July 2005, an exhibition of origami was organised by the Red Bull company. Along with many others, I was invited to attend the opening ceremony and to contribute to the exhibition. My flight went via Holland, but unfortunately my continuing flight left 10 minutes early and my first flight was 10 minutes late arriving, so I had to sit in the airport for 6 hours, watching the horror story of the tube bombings in London unfold on the tv screens.
Somewhat shaken, I arrived in Salzburg just as the opening speeches concluded, so there was little to do other than walk around the main hangar with mouth wide open (and drop a few beers into it).  It's difficult to overstate what a superb time I had over the next few days as guest of the Hangar7 organisation. Leaving aside the richly varied and hugely appreciated entertainment laid on for all the guests (a ride in Marshall Tito's 1958 DC6 airliner?) I'd like to focus on three aspects.
The exhibition

I think it's fair to say this represented the most impressive display of contemporary origami every displayed in Europe. It drew up the talents of the cream of today's creative folders, plus a few like myself, who felt deeply humbled to be included.
A few notables were absent (Momotani, Montroll, Hulme, Kasahara) but given the time scale involved, the organisers had assembled an extraordinary collection, including Lang, Yoshizawa, Wu, Dinh, Brill, Van Goubergen, Joisel, LaFosse, Floderer, Forcher, Jackson, Hatori, Kase, Giunta, Maekawa, Kawasaki, Miura, Komatsu, Strobl, Correia and many, many more. Beautifully displayed in Perspex cases, visitors could get really close to admire the detail and artistry. Giant display hoardings explained about the display and provided an impressive backdrop.
The Book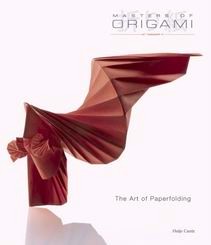 Many of the designs on display had been beautifully photographed for a book. No expense was spared, from the embossed colour cover featuring Fuse spirals, to the high quality paper and immaculate design. The finely tuned eye of Paulo Mulatinho helped with the preparation of each photo and the results speak for themselves. LaFosse's "Origamido" finally has another book worthy of comparison and if you want to see a snapshot of the finest contemporary origami, you should invest before they sell out.
The Folders
A large number of contributors had been flown in and given hospitality by Hangar7 at what must have been a considerable expense. So here they were, Masters Of Origami (or MOO for short) and outsiders might well have expected a collision of some monstrous egos. This was far from the case. It was a source of delight to me to see how down to earth origami creators generally are and the larger the talent, the more affable they seemed to be.
We were also taken for a flight in an antique plane, which soared slowly and majestically over Austria for a couple of hours. I had the chance to talk at length with several people whose work I admire enormously and they were unfailingly humble, generously "bigging up" the work of other artists. Eric Joisel insisted at some length that he wasn't an artist, merely a technician. You only need to see his work to realise how he is underselling himself. A final word of praise must go out to Tom Wallman, who organised the event, to Valerie Vann, Paul Jackson and Miri Golan who were heavily involved in making it all happen, to Paulo Mulatinho for making things beautiful, to Tanja who managed to solve every problem thrown at her and worked from dawn 'til dusk, to the numerous Hangar7 staff who shuttled us to and fro with unfailing enthusiasm, and to the drop-dead gorgeous air-hostesses who seemed to be everywhere.
Most of all, we must thank Dietrich Mateschitz, the owner (and inventor of the Red Bull drink) who approved and funded the whole event. Business sponsorship and origami have rarely worked together to such good effect and we can only hope that the event may be repeated at some point in the future.