Soon we'll be ship-building…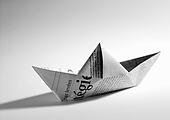 I have a fascinating weekends work lined up, down in London at the National Maritime Museum in Greenwich. My mission is to help members of the public build enough paper boats to do a re-enactment of the Battle of Trafalgar!
I'll be making the larger "flag ships" and teaching people to make smaller ones, using the trad "rectangular boat with sail". It will be happening both days, starting at 12 and again at 3pm. I hope to see some folders there!?